Now that you know that CXM is more than just another fancy acronym out there, we want to share some real life examples of how it works.
What's special about digital customer experience is the fact that these are experiences that organizations set up for their customers through digital interfaces. We are talking about creating experiences for customers through computers, tablets, and smartphones. Organizations are getting super creative about how they are enabling their customers to experience their brands whether through interactive content tools or through the delivery of their service or product.
Julie Cottineau, a CXM expert, shared this example in an interview with Customer Experience Magazine:
"I recently used UBER and noticed that I had the option of sending my playlist to the car – which means that from the moment I enter the vehicle my favorite music would be playing. It's a little touch of customization that empowers consumers and also says 'We care.'"                                                                                        –Julie Cottineau
Another stunning example comes from a new health insurance company out of New York called Oscar. The company uses technology and "speaks human," making it simpler for customers to understand what services they offer as they tailor their messaging to the average person.
In only one year after starting out, they were able to draw in 16,000 customers.
Customer Think points this out about Oscar's success:
Instead of using the language you'd expect from an insurer such as premiums, deductibles, and co-pays, Oscar speaks in plain English and asks interested visitors just a few meaningful questions to help them arrive at a policy that works for them. Here's all you need to start the conversation (white text are choices for consumers to personalize).
                                                                        —4 Inspiring Customer Service Experiences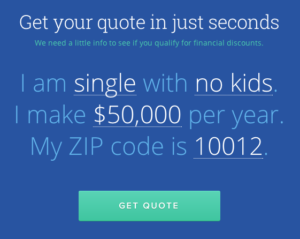 Red and Yellow, a South African online digital marketing school, highlights several stunning digital customer experiences which not only made an impression on customers, but show how far being digitally responsive really goes today.
"Virgin Trains in the UK recently leveraged social media to provide personal customer service that blew many people out of the water. A 16-year-old was on a trip to Glasgow on a Virgin Trains service when he ran out of toilet paper. As a joke, he tweeted Virgin Trains – who responded within two minutes with an offer to help.
Within 20 minutes, Adam had his toilet paper, and Virgin Trains had a customer service story that spread all over the internet. Read the Adam Greenwood's full Twitter Chain here."                                                 —5 Amazing Examples of Great Customer Service                            
These experiences show us what is key–the strategy of interacting with customers in the ways that they prefer to interact digitally and the fact that each brand provides tools for the customers to use that enable that experience.
Top researcher Esteban Kolsky  of thinkJar hones in on the way that companies can really provide these sorts of experiences for their customers, which in turn build loyalty and drive sales. His research on customer experience management provides a gold mine of statistics that businesses can immediately sink their teeth into. Here is what he recommends companies doing according to this Huffington Post article 50 Important Customer Experience Stats:
"Kolsky's advice to companies is to focus on their job. The company's job is less about knowing what the customer wants, and more about building the infrastructure to enable customers to freely choose, personalize and optimize their experience at every single interaction based on their needs. Companies must utilize the right technologies to build a self-learning infrastructure, designed for continuous improvement based on measured customer feedback. Ultimately, convenience wins. The infrastructure must be adaptive, flexible, scalable and intelligent.
Kolsky's research and survey results regarding social, mobile, communities, journey mapping, engagement and knowledge management customer service should also be an eye-opener for business executives."
So the question isn't so much how important is the customer experience. Rather, it is how have you enabled your customers to experience your brand? How can you provide tools customers are hungry to use, tools they already are using to spread the positive message about your brand?
Answering these questions may require you to reinvent what you understand about customer focus. Which is why this is where we go next…